Monday, Sept 13 delivers a moment of truth as the week opens with a dynamic Sagittarius last quarter moon. This lunar phase represents a time of 'crisis in consciousness', a time when decisions are made and commitments formed. This week marks a tender moment.
Last weeks' Virgo New moon set the stage with an enchanting Jupiter and Venus trine, a fortunate aspect that gives hope for positive outcomes. Indeed, many are weary as we are living through these times of rapid change.
Every day it's easy to look around and see all that is wrong with the world; however, the stars serve as a reminder of what is right and positive.
What makes this lunation so powerful is that the Moon, at 21 Sagittarius, is exactly interacting with another major planetary event.
Sun opposing Neptune on Tuesday, Sept 14 = no place to hide
First, Sun opposing Neptune. This happens one day each year, so it's not rare, but like so many other events in this monumental year – the symbolic language of the stars has much to say. The last quarter Sagittarius moon drives all messages home.
Neptune is though of as the androgynous planet of 'illusion'; but there is more to Neptune's story. Neptune also speaks to your longings and desires; to your heart.
The longing of the human heart serves as one of the most powerful history makers in the world.
Neptune drives what makes you happy, or at least what you think will do so. Neptune triggers us all, often in the most subtle ways.
Needless to say, with so many points of view out there now, Neptune is having a moment.
The Sibley Chart and Transiting Neptune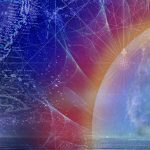 Ironically, this planetary configuration between the Moon, Sun, and Neptune forms a planetary T-square that is completed by the Mars of the US birth chart at 21 Gemini. Translated – this week's last quarter lunation cycle shines a bright and perhaps harsh light on the what is truth and what truly motivates those in power in the United States now.
For example, you can see in the birth chart of the United, (I use the Sibley chart) transiting Neptune has been connected to the progressed Sun of the US since late 2018.
This clearly speaks to why the US is unraveling with so many different points of view. The only thing more astounding than this transit is that nobody is talking about it! (Neptune…)
The Sun opposing Neptune brings you to a moment of awareness. The opposition grants you an advantageous position of awareness from which you can objectively:
See through an unfiltered lens
Analyze
Understand
Discern, and then
Take the Right Action
With a dynamic last quarter Sagittarius moon, this is YOUR week to move ahead with the advantage of clarity.
Wishing you a value packed week ahead!
Maya White
Are you living in your Best Place? Order your very own AstroCartoGraphy Explained report HERE