Leo New Moon – Shine Your Light
Like the welcoming of a baby, this New Moon is birthed with anticipation. The actual time of New Moon is just before midnight on Wednesday, July 31 in the Eastern US and in the early morning of August 1st Greenwich Time. Just like the birth of a King, there has been an excitement building up.  Some of it is hype, and some of it is real.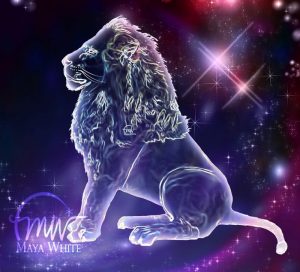 The hype is that because it's the second x that it has special meaning or power. Actually, if you live in Europe or many other parts of the world, the date for this New Moon is August 1. Then, there will be two New Moons in August for you; Aug 1 and Aug 30. Here in the US, we have two New Moons in July – it's a calendar thing.
Leo New Moon = Super-Moon
But, here is how it's 'real'. Wednesday's Leo New Moon is also a Supermoon, which means that although you cannot see it, the moon is closer to earth. Astronomers call this perigee, and even though we cannot see the moon, it will cause extreme tides, both higher and lower than usual.
Astrology teaches that if this moon can influence extreme tides on the oceans, it has an added impact on you, too.
So, what is this royal birth all about?
For starters, Mercury stations direct just a half hour after the exact New Moon. That is surely one cause for celebration. I am developing a new program – Find Your Power Center – and all month have been working via email with several people.  At times, it's been classic Mercury retrograde when I have explained something (that was misinterpreted), submitted a document (that didn't go through), or asked a question (that never got answered) . . . The good news is that I'm sharing the banner below for my new online program which is set to launch on Sept 3!
Leo celebration
Another reason many people are in a jovial mood is that most of August is a Leo celebration. We enter August with both Venus and Mars in Leo. Also, Mercury re-enters Leo on the 11th, , the same day Jupiter stations direct. All this fire sign activity creates a trine to Jupiter in Sagittarius.  It's kind of like the planets are kicking the bad guys out, at least for a bit, in August.
One of the keywords for Leo is 'Heart'. Leo is ruled by the Sun, and it's helpful to think about the good and bad qualities of our brightest star to harvest the good in this sign. The Sun is a source of energy and some would say even spiritual Light. In describing Leo, yes, the word heart refers to the heart in your bodies, but it also expands to the other meanings of the word.
Loyalty, Honor, Bravery and Intention are all expressions of heart. So are your Enthusiasm and Creative Self Expression. Creativity is one of your divine gifts as a human, up there with speech and the ability to write. And this is why I think there is excitement in the air – the new King or Queen to be born is the child of your creative essence.
What will you give birth to in this fertile season? A book, a plan, an adventure filled with awesome experiences – you also have the Divine gift of being able to influence what kind of a day you'll – each and every day – by choosing how you will think and act. This one act sets a powerful and positive tone over all of your life.
Things happen, lessons come and go, and sometimes life doesn't go as anticipated, but always remember your Leo royal self and choose a path with HEART.
With love and gratitude
Wishing you many blessings as you reach for the Stars
Are you ready for 2019? Schedule your update reading HERE.
Read More