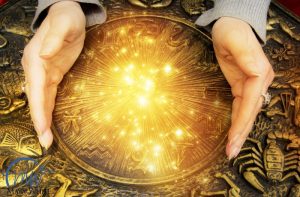 The days have flown by, fueled by the sun in Aries and the new moon of April 5th. Aries is a sign of new beginnings, but did you also know that Aries is also associated with miracles?

Specifically, the season of Aries feeds your ability to create miracles. Kabbalah teaches that while the Sun is in Aries, the force that assists you in manifestation of miracles is activated.

I just finished up a rich and rewarding Soul Aligned series. During the eight weeks of the program, as a group we examined different ways that you can learn and practice to speed up manifestation skills.

Actually, manifestation is one of the topics that Fateh Bolivar and I will be teaching at our Mysticism in Morocco retreat, Sept 22 – 29th. (see more below) Over the years, Fateh and I have co-led retreats to Bali and India, and this year, we have chosen Marrakesh, Morocco as our destination. We'd love to have you join us this year, too.

Aries is a sign of courage, initiative, and action. Immediacy is one of the qualities that feeds manifestation and making miracles. Isn't it nice that the zodiac has incorporated the wisdom of getting out of your own way as a first step to being a wise human being?

Aries nurtures enthusiasm with a love of freedom fueled by fire – the prime element of spiritual expression. The subsequent signs such as Taurus, Gemini, etc. each play a role in your journey to development, but the story begins with Aries.

Prime. Cardinal. Creator. Learning to Share. Happiness.

So, with the Sun now in Aries until April 20th, how can you not be happy? If problems or situations have gotten you down, do the energetic work of realigning yourself to gather strength. And then, connect with Spirit.

This is a season of authenticity and union and if and when you ASK for answers, they will come. Next, take some time for self-nurturing; settle into a massage or a lovely meal.

There are some more supportive planetary happenings in the world of Fire. Notably, Chiron, the planet/asteroid is now in Aries until April of 2027. With both the Sun and Chiron in Aries now, this is a time when you are more likely to get intuitive messages; whispers from your subconscious mind or Higher Self when you receive clarity and guidance. Pay Attention!

Also, Jupiter, in the fellow fire sign of Sagittarius, is now in retrograde until August 11th. One way to think of Jupiter retrograde is visualize a crossword puzzle. The retrograde period is your time to read the clues and fill in the blank boxes so that when Jupiter is again direct, you have managed to complete enough words so that you get the big picture. Really, Jupiter retrograde presents a perfect opportunity to enjoy your life.

By the way, there are two power house days this weekend. On Saturday, April 13th the Sun square Pluto may trigger confrontations – it may be with your own self, or, you may witness or be a part of a power struggle. (I'd say, not a good day to march or protest.)

But, Sunday, the 14th, the Sun trine Jupiter delivers one of the most positive days of the year. With both the Sun and Jupiter shining bright, I urge you to make Sunday a day to remember. Plan something special – now.
Wishing you many blessings on your journey!
Are you ready for 2019? Schedule your update reading HERE.
Read More