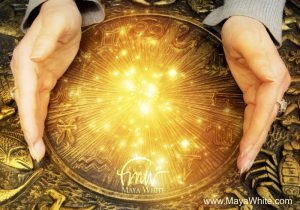 This week imparts the flavor of post-Mercury retrograde peace. Just like the sun stands still at Solstice, this week Mercury is almost standing still. Although Mercury retrograde officially ended on Sunday he's basically at a standstill until Wednesday, August 22nd.
So, if you've felt as though you're in 'wait and see' mode, it's because Mercury moves slowly post retrograde.
Mercury gets moving again by the end of this week, though.
Embracing Post-Mercury Retrograde
Even in post-Mercury retrograde there are few stressful planetary events this week. Rather, this a time to be present and relish the long lasting Jupiter/Neptune trine that will be in place until early September.
I especially love how the sunlight shifts this time of year. Right on cue with the changing of season, the sun enters Virgo on Thursday, August 23rd.  The sign of Virgo has long been associated with the harvesting of crops, but there is an even deeper meaning.
Symbolically, Virgo represents the time when humans move out of the childlike ego state and grow into Universal stewardship. When the sun is in Virgo, it's time to evaluate how you fit into the grand scheme of life; and to polish your diamond so that you shine.
Harvesting Loose Ends
Virgo is a sign that focuses on 'HOW', and the Pisces full moon of August 26th illuminates all the reasons 'WHY'.  At full moon, the circle is completed. Harvest the loose ends of your life and apply the alchemical magic of Mercury to create a unified field.
Key words for Virgo are: Refinement; Productivity; Wholeness; Transmutation; Integration
Although many astrologers suggest that Chiron should be the ruling planet of Virgo, Mercury is presently the planetary ruler. And, indeed, Mercury helps you to be present; to live in the moment.
Mercury also delivers information. Living in peace often comes with being in a place that you love.
One of the reasons I became interested in AstroCartoGraphy relocation astrology is that I needed answers to understand why my life had brought me to a place far away from my home. The AstroCartoGraphy Explained reports bring peace of mind to many people by offering insight about places you live or travel to.
You don't have to move to benefit from ACG Explained reports. They give valuable information to help you understand what's going on where you are NOW – in the moment. And, they give you a heads up, for better or worse, about any place you are considering to move or to visit.
I love all kinds of astrology, but AstroCartoGraphy has provided me with amazing insight, and I invite you to receive the benefit!