AstroCartoGraphy is a branch of  astrology which shows YOUR best place to live or travel to
Astrological Mapping and PowerCenter Astrology
AstroCartoGraphy & Astrological Mapping is a specialized branch of astrology that shows YOUR best place to live or travel to. You can schedule your private AstroCartoGraphy reading HERE.
Did you know that AstroCartoGraphy can also help you raise your vibration and align with your souls' divine purpose?
One of the misunderstandings about AstroCartoGraphy is that you have to move to live in the 'right place.' This is not always true. The way it works is that the earth holds a resonant memory of where the planets were above the earth at the time you were born.
Each person has unique PowerCenters, places on the earth where the planets align to empower you. (We also have stressful places, too.)
And, there are ways to activate the good energies of your best places without moving or dismantling where you live now. I address this in my Find Your PowerCenter program.
Astro*Carto*Graphy maps brilliantly combine the ancient art of astrology with modern technology.
I am one of only 100 people in the world trained and certified in ACG, and the creator of PowerCenter Astrology, a unique system that shows you how to activate your best places without moving.
Read my article in Hay House's Newsletter "HEAL YOUR LIFE".
With an AstroCartoGraphy reading from me, you get my experience and intuitive guidance. Plus, I have the most up to date astrological software – and I know how to use it!
AstroCartoGraphy and PowerCenter Astrology Can Help YOU:
Live in harmony with your environment
Activate the Law of Attraction

Fast track your career

Get more money

Find the perfect relationship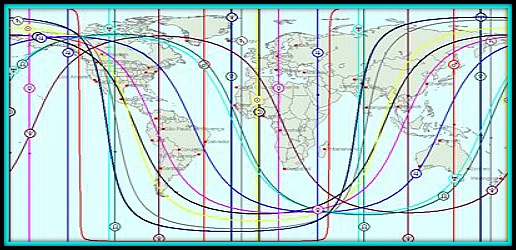 Connect to Your Birth Chart Through Resonant Earth Locations:
Venus reveals where YOU will find love or meet the right people.
Saturn shows where you have to do some hard work.
The Sun shows where you can SHINE!
Testimonial from Fateh Bolivar, owner of

 

CASCADAS FARALLAS 

 

in Costa Rica

"What Maya told me changed my life!  She helped me to maximize my gains, as well as cut loose on things which were draining to me. I had planned to move to Australia and open a retreat where I could dedicate myself to teaching Yoga and natural healing, but first I needed to sell my house. Fascinated by astrology and the concept of AstroCartoGraphy, I made an appointment to have a reading.

Fateh continues: "The Waterfalls Villas property has doubled in value since we bought it 3 years ago. And our guests define this land as a sacred space. Looking back, I know that by using astrological knowledge, I am able to create a healing space and share one of the most beautiful places on earth. Our waterfalls face a wall of native orchids, where the fluorescent blue butterflies dance in the mist, the Jaguarondi sip a cool drink as they pass, glancing to the monkeys and Toucan in the forest.

Thank you Maya, for giving me insight through the sacred art of astrology that opens up the Bounties of the Universe!"
Want to learn more about AstroCartoGraphy? Order your personalized AstroCartoGraphy Explained report

 

HERE
---
Find YOUR Perfect Place. It does make a difference.