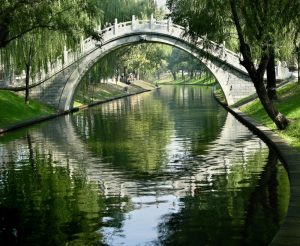 Hello and Welcome to my weekly Star Cast, where I bring you the update on what's happening in the world of astrology – and how you can apply the wisdom to enrich your life here on earth.
My Key phrase for this week is: Alignment With Your Higher Self. 
Now that our 2018 early eclipse season has ripened, it's time to settle down and carry on.
Eclipses often bring resolution to issues and the New Moon Solar eclipse last week set in motion a time for healing and renewal. What is the healing paradigm in YOUR life?
To offer assistance on our journey, and right on cue, Venus again becomes visible in the evening sky. You'll have to look carefully, but as the young crescent moon rises in the western sky in the early evening, you'll also see Venus becoming more visible each day.
Symbolically, Venus is in her harvest, or reaping stage and this is our message here on earth: shine your Light and share your bright gift with the world.
You don't have to fight so hard, rather, be willing to put one foot in front of the other, and accept the good that is your birth right.
On Wednesday, Feb 21st Venus conjuncts Neptune,...