Ultimate Rejuvenation Retreat & Kerala Mystery School – November 2022
I'm delighted to announce that we are going once again to Somatheeram in October of 2022. Our 2014 retreat was a week of Ayurvedic healing  and yoga at Somatheeram Health Resort in Trivandrum India. We had a week of healing treatments, great food, and daily yoga.
Each person met individually with an Ayurvedic physician for an initial consultation to determine her dosha type, so that her treatments would be specific to deliver the highest benefit. The staff and healing treatments at Somatheeram were top notch.
We all benefited from two handed massage therapies, personally selected herbal treatments, milk-baths, and more. Ayurveda is a subtle but powerful healing modality, and the health benefits that I gained there continue to grow every day.
For this journey we had a group of 8 women, but our trips are not exclusively female, and men are welcome. One of the highlights was a Puja (sacred ceremony) conducted by an Indian holy man.
In addition to daily Ayurvedic healing therapies, Maya conducted four days of her Kerala Mystery School. The tradition of Mystery Schools represents a lineage of  oral teachings from teacher to student and can be traced back 3,500 years ago to the time of King Solomon.  We explored 4 subjects with for an in-depth look at how to apply these teaching to your life: Astrology, Numerology, the Hindu Gods and Goddesses, and Divination.
We had plenty of opportunities to visit the local Kerala markets, and our group took a short day-trip to Kanyakumari, an ancient seaport town located  at the tip of the continent.
Along with others, we celebrated and watched the sun set simultaneously over 3 oceans – the Arabian Sea, the Indian Ocean, and the Bay of Bengal. Kanyakumari is also where the Vivekananda rock temple is found. From very ancient times, the rock has been regarded as sacred place.
In Puranic tradition, the Vivekananda site is known as 'Shripada Parai': meaning the rock that has been blessed by the touch of Shripada feet of the Goddess. This was a perfect destination for our healing journey.
We had wonderful times meeting and interacting with each other as well as the Kerala people.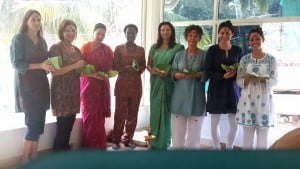 This photo was taken at the Puja , a spiritual ceremony of prayer, song and ritual to connect with the Divine.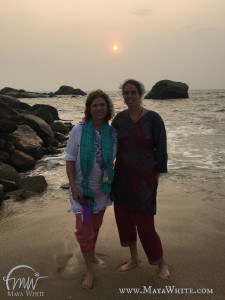 Sunset at the southern most tip of India!