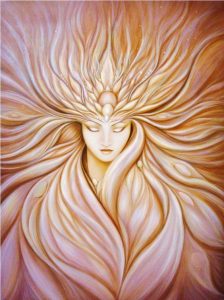 The month of September is ending, and a new lunar cycle begins – folding into what is being called a 'Black Moon' . What this term is referring to is a second new moon within one month.
However, With Jupiter standing guard in early Libra, this new moon is not dark at all. Rather, the new moon of September 30th is a conveyor of Light, precision, and strategic balance.
All of the planets lend depth to this new moon. Venus and Neptune sit respectively at exactly nine degrees of Scorpio and Pisces, forming an exact trine. Any time that Venus and Neptune are interacting favorably in this aspect of spiritual insight and soul growth is a good time!
Uranus, Pallas Athena, and Mercury interact to form a Yod, the aspect known as the 'Hand of God'.  Think of the Yod as a three legged stool – you can sit, but you must constantly evaluate your balance and perform micro shifts in order to be comfortable. The Yod corresponds to the number ten, and is also considered to be an aspect of completion and perfection.
Chiron sits as the release point of this Yod further enhancing the ...