Leo New Moon & the Solar Eclipse Yod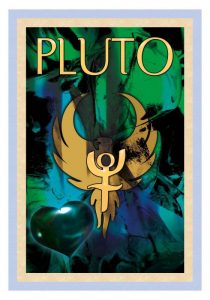 This week holds many treasures. Perhaps you are somewhat weary of eclipses, but we have one more to go: A New Moon solar eclipse on Saturday, August 11.  
There is something very special about this eclipse. Neptune, Pluto, and the Sun, Moon, and Pallas Athena form a rare but special aspect called a "Yod."  Also known as 'the Hand of God' or, 'Finger of Destiny, the Yod mandates that success comes only through spiritual solutions.
And, until spiritual answers are utilized, the Yod indicates that practical matters remain unbalanced and off kilter.  This makes a lot of sense in view of the world situation, and it surely comes as a breath of fresh air to all of you who already know this and practice it in your own lives.
Inner Work of the Hermit
Tarot associates the Yod with the 'Hermit' card. This teaches us that you must cultivate personal power, but also reach out to the world with your knowledge. You must do the inner work of the hermit and then plant your seeds so that knowledge may grow into wisdom.  As a hermit, you may be used to solitude, but your contribution makes the world a better place for everyone.
Obstacles encountered under the Yod are simply calling you to seek a better way forward. Collectively, we must adjust our thinking about power structures (Pluto in Capricorn). As citizens of the planet we must also understand how to heal (Neptune in Pisces).
The Sun, Moon, and Pallas Athena form the handle or power point of this Yod. This means that you must apply your wisdom (Pallas Athena). You also must unite your body and soul (Sun and Moon), take heart (Leo) and be ready for sustained action (fixed fire) to let your Light shine.
Reality Check
With Mercury square Jupiter on the 11th, this week's eclipse marks a turning point. Mercury square Jupiter delivers a challenge to expand your consciousness. It's time to unite your philosophical beliefs with your critical thinking skills. We have arrived at a point of re-evaluation and must respond.  
Mars now retrograde releases some of his pressure on Uranus, although these two planets will be exactly square again on September 18th. These two are working overtime to settle old, ancestral wounds. Ritual battles by alt-right and alt-left groups surely illustrate some of the worst possibilities of Mars and Uranus.
And, there are more notable celestial events to consider. August and the sun sign Leo is a time of extremes. In the northern hemispheres, August delivers the heat of summer. In the Southern hemisphere, August is the month when the winter finally abates. This is also when the light holds a glimmer of warmer days.  
Regardless of where you live, the fire energy of Leo distributes the essence of life force out to the world.
Wishing you a bright and hopeful week filled with inspiration and insight.
Maya White