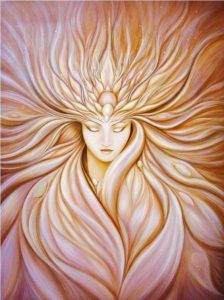 Welcome to your star cast for the week of March 11. This week begins with grounded Taurus moon setting the tone. Last week's Pisces New moon yielded fertile ground for productivity this week.
And Monday fulfills the new moon promise as the moon conjunct Mars mid-day presents a great opportunity to get your week in motion.

It's also important to know that the asteroid Vesta now sits between the Sun and Neptune. The glyph (or symbol) for Vesta is meant to portray a single flame burning brightly.

When Vesta is activated, it's a great time for focus. Think of it as shining your Light.

So, Vesta conjunct the Sun and Neptune adds a beautiful glow to this deliciously fertile week. Actually, we need this richness now. Pluto and Saturn are traveling closely together in Capricorn, and Mars in Taurus adds a serious flavor to the mix.

With Vesta active, you can really dig in and approach your work with devotion. Sometimes, however, Vesta leaves you feeling like you're working all alone. Loneliness is the shadow side of Vesta, so, reach out and touch someone!

Carpe Diem – pick up the phone, schedule lunch with a friend, and be sure to laugh and celebrate the day.

There are two major planetary aspects this week; Mars trine Saturn on Thursday and Mercury square Jupiter on Friday.

I always think of Mars and Saturn in military terms; Mars is a soldier, and Saturn speaks to his or her capacity for discipline and planning. Yes, Mercury is retrograde now, but don't let this stop you in moving ahead. Attention to detail is a signature of Mars trine Saturn.

Saturn actually controls and directs the energy of Mars, helping you get traction on difficult projects – things that you couldn't conceptualize or find the time to work on.

And then, on Friday, Mercury square Jupiter adds icing on the cake. This planetary combination helps you to see the whole picture. Mercury delivers the facts and figures as Jupiter expands your vision.
Mercury square Jupiter makes this a great week for seeing and correcting mistakes while setting up positive outcomes. All in support of the Libra full moon on March 20th which is the same day as the Vernal Equinox.

Have you noticed that the timing of celestial events in 2019 is very precise? This month's full moon coincides with the equinox and even the full moon of April is on Good Friday.

This is one good reason to keep astrology and your own personal chart as a close ally. Now more than ever, you want to know where you're going, and the best way to get there.

Wishing you many blessings on your journey!
Are you ready for 2019? Schedule your update reading HERE.