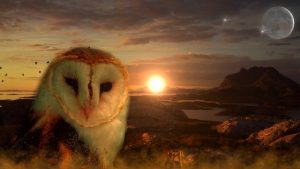 Just as in ancient times, a solar eclipse today is a reminder that we are guests on a planet and even in a solar system that has its own rhythm and synchronicity.
Symbolically, a solar eclipse unites the Heart (sun) and Soul (moon), and people of all walks and beliefs will unite across the USA today to observe this once in a 100 year event.
Honestly, I'm kind of ready for the hype to be over – this eclipse has gotten to be such a media event that, like Christmas, the real meaning is overshadowed.
But, regardless of the hype – I'm excited! We've arrived at a tipping point. Recent events across this land have exposed lingering shadows in the underbelly of this nation and triggered  a necessary clearing of the shadow. With the clearing comes a changing of the guard as truth is brought to the Light.
And today, the event field is in the last, critical degree of Leo – the Heart of the Lion. The new Light that shines will reveal who is a bully and who is really brave.
This event triggers a changing of the guard, and it will illuminate and inspire true leadership.
The solar eclipse travels across the land in a dramatic fashion, and the lightning speed of events will continue – until the earth comes to her new center of balance.
Let the Sun open your heart today and the moon inspire you to fulfill your dreams.