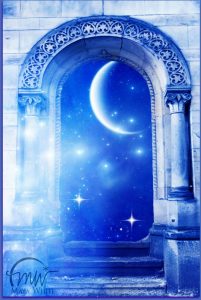 Hello and Welcome to my weekly Star Cast, where I bring you the update on what's happening in the world of astrology – and how you can apply the wisdom to enrich your life.
My key phrase for this week is: Follow Your Stars.
 
Today is a special day –  the Aquarius New moon arrives this evening. And then, tomorrow, February 5th, it's officially Chinese New year; the year of the Pig, aka the Boar.

There are many activities surrounding the Chinese New Year, for example, one of the things recommended is to avoid crying children and do not visit medical doctors. It's believed that how you spend this day, Tuesday the 5th, will impact the rest of the year, so, make Tuesday a day of grace. 

The New Moon is always a time to set your intentions for the month ahead. Aquarius is a sign of acknowledging our need for other people.  Practice honor, respect, and having good times together. Remember your friends and associates, and while you're at it, do something good for Mother Earth this week.

Chiron, the planet/asteroid of healing is preparing to leave the sign of Pisces and move into Aries. This is a powerful time for personal healing. Over the next month, long lasting aliments and even ancestral or hereditary ailments can be successfully addressed. Surely, they are coming up for review. Chiron is deeply into the last breath of Pisces. If you're experiencing a healing crisis, or emotional turmoil, understand that Chiron the Shaman is active in your life now. 

Also today, Venus enters Capricorn, after having been in Sagittarius for about a month. Venus in Capricorn is more serious and steadfast.  If and when you give your word you'll be called to hold to your commitment.

Another dynamic day this week is Thursday when the Sun and Jupiter form a favorable sextile, the aspect of opportunity. In addition to many lunar aspects, Mercury and Mars are also sextile.

Basically, this means that it's a great day to reach out and either take a risk, or grow in some other way. The Universes has much to offer on Thursday, so, be open to opportunities and ready to take action.

With the Sun in Aquarius, the area of opportunity will likely come through other people – work associates, friends, or even chance meetings. This is an important time to get outside of your usual routine and look at the world through fresh eyes.

Remember that Mars and Uranus are still traveling very closely together in Aries. These two planets can trigger unexpected events and or actions, they are both radical action takers, and you may be promoted to do something that you've never done before.

Plus, Pluto and Saturn are circling the wagons in preparation for their solidarity conjunction of 2020. Saturn is a builder; Pluto is a destroyer. Saturn has restraint and order; Pluto is wholesale change.

January 1 of 2020 opens with Mercury, Jupiter, Sun, Saturn, and Pluto all in Capricorn. And Mars stands guard at 29 degrees of Scorpio. Surely there will be a new order to the world, but the question is: what will that be? 
Hold on to the option for a season of empowerment rather than disintegration. Focus on building and even reconstruction of yourself! Heal your body, feed your mind, and be nurtured by your soul. 
Are you ready for 2019? Schedule your update reading HERE.
Read More