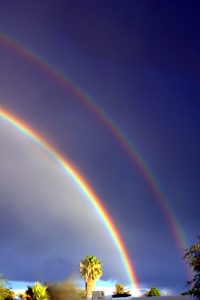 We have finally arrived at a time when the annual eclipses have passed. Although Mercury is retrograde until August 19th, this week is less intense on the astrological front. But stay tuned for a harmonious coupling with a moon and Venus conjunction.
As the moon increases in size, it's time to prepare your fertile ground to seed and nurture new projects. Tuesday, August 14th delights us all with a beautiful moon and Venus conjunction.
You'll be able to see the moon and Venus joined in the early evening sky. Look up, and make a wish. A moon and Venus conjunction, especially in Libra, is a magical, sweetheart combination that whispers about your dreams coming true.  
Venus stays in Libra until the new moon of September 9th, when she enters Scorpio. Libra is one of the signs of rulership for Venus (the other being Taurus). So for the rest of August think of Venus in Libra as the Queen visiting one of her favorite castles, and she's more likely to grant your wishes when she's happy.
Gift of Grace
There is another special planetary development happening this week. Jupiter and Neptune are moving into position to form an exact trine, which delivers the gift of grace.  I like to compare Jupiter and Neptune working together to the beautiful Light that you experience when visiting a cathedral. There is an aura of splendor as you see the rays of the sun shining down into a space devoted to worship.
Often you see an added array of colors from figures and patterns in stained glass adornments. This is Jupiter and Neptune working together at their finest.
With Jupiter and Neptune in harmony, the planets give us peace and connection with the spiritual world. But you have to be willing to step into the place of splendor and accept that grace is possible.  Jupiter and Neptune are moving into position all week for their exact trine on Sunday, August 19.
To get more details about how this will impact you, take a look at your natal chart and determine which houses contain the middle degrees of Pisces (Neptune) and Scorpio (Jupiter). This will give you insight on how this astrological event can bless your life.
Granted, there are many events happening in the world now that could steal your joy – if you let them. But you can always claim your own "headspace." But  if you don't do it, somebody or something else will. Claim your peace, and enjoy this special week – a moment of grace and splendor.
Read More